The annual recurring pagan sun- and moon festivals are fixed by the course of the year in nature. Equinox, Solstice, Harvest Festivals or The Twelve Nights are a holy time, which should be commemorated with an appropriate ceremony.
Maybe your circle of friends lacks of creative possibilities to bring the suitable cultural experience for such an occasion into being? Or you want to concentrate on this holy day just on your own, without organising time-consuming preparation works? We celebrate this day in either case, and we want to cordially invite you or your circle of friends to this celebration!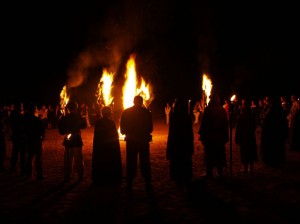 Our offer contains …
Solstices
Equinoxes
Walpurga
Beltane
Imbolic
Pollination- or Scarecrow Feast
Harvest Feast
Celebration of Death / Samhain
Ostara Feast
Further pagan festivals by agreement. Basic charge is 700,- Euro + travel expenses from Greater Berlin. Rates for individuals upon request, starting at 98,- Euro.